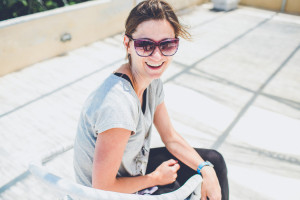 I am Veronika and yoga is my passion. I live in Santorini in Greece. Here together with my husband we manage a beautiful property called Caveland. That is where I have my outdoor yoga terrace and teach my classes and retreats.
I attended my first yoga class 11 years ago in Boracay Island in the Philippines, I fell in love with the practice. I then started my regular practice at Yoga109 in Shanghai (China)– a great studio of Lorraine Aronson.
Early in 2012, I attended a yoga teacher training at The Mindful Academy of Kathy Ward in Spain and became a certified yoga teacher (RYT 200) and therapeutic yoga teacher. Therapeutic yoga is my hobby and every year I attend online yoga courses in this area. In 2013 I also completed yoga for kids training with Rainbow Kids Yoga. I am a mother of two kids and I love to see them having fun with yoga! I have also a diploma in perinatal yoga (pre and post natal yoga) and baby yoga and toddler yoga with Birthlight. In 2016 I attended a yin yoga training with Josh Summers, I find yin yoga a great complement to active hatha yoga.
I am a member of International Yoga Alliance and International Association of Yoga Therapists. What resonates within me during my practice are the words of an amazing yoga teacher Oona Giensen who I had a chance to take a short training with. As she says — "less is sometimes more".
My yoga classes are inspired by hatha yoga and flow. They combine active assanas as well as breathing and centering exercises with attention to mindfulness and body awareness. Most importantly, it is your holiday–so take your time to unwind, be careless and smile!