Today I was literally "forced" to make a banana cake. While I was preparing breakfast my one year old son was playing really quietly. Once I checked on him I realized he decided to learn how to peel bananas and I found a mountain of peeled bananas next to him. So I searched online for some summery recipes for banana cakes, I looked into my fridge, I combined it all together and a result is a very fresh 3 layers cake. The preparation takes about 20 minutes. For the perfect result you need to let the cake cool in the fridge for at least 3 hours. Most of the ingredients I used are organic.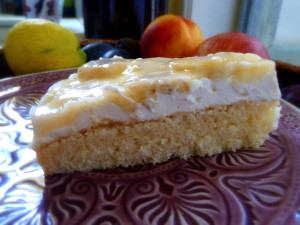 Ingredients and preparation:
The base of the cake: Sponge cake
3 eggs
90 gr sugar
100 gr flour
3 teaspoons of baking powder
3 tablespoons olive oil
Beet the eggs with sugar, add the rest of the ingredients, pour into a baking pan that you covered with a baking paper and butter with flour. Bake for 15-20 minutes until a wooden stick comes out clean. Let it cool down for 10-15 minutes.
The core of the cake: Yoghurt- cheese cream
200gr Philadelphia cream cheese
300 gr Greek yoghurt
6-8 spoons agave sirup (depends on how sweet you want the cream)
1 tablespoon lemon zest
juice from 1 lemon
3 bananas cut into 1/2 cm thick pieces
Mix all the ingredients (except bananas) together and spread it with spatula on a cool cake. Cover with bananas.
The top of the cake: "Jelly":
Here I used corn starch as a thickener.
200 ml water
juice from 1 lemon
2-3 spoons of agave sirup or sugar (depends on how sweet you want the jelly)
2 spoons corn starch
Heat the water, add lemon juice and a sweetener of your choice. Once the mixture is hot, start stirring it and slowly add corn starch. Remove from the heat, keep on stirring until you get a pudding-like mixture. Spoon it on top of the cake and place the cake into the fridge.
As for the benefits, I did not have to force-feed anybody all those bananas neither I had to throw them away 🙂