SPRING YOGA RETREAT
Caveland, Santorini
March 25-30, 2020
Welcome the spring with a revitalising yoga retreat in Santorini! In the morning we will practice together an active hatha flow yoga. In the evening you will be guided through a calming dru yoga practice, meditation, pranayama and a relaxation. After the morning practice we serve a delicious fresh vegetarian brunch in our garden with variety of fresh seasonal fruits, vegetables, freshly pressed juices, smoothies and more.
You will learn about a local cuisine during our welcome dinner. Typical local dishes are mainly vegan or vegetarian! Moreover you will go on a private tour where you immerse yourself into a 5000 years old history of Lost Atlantis in Akrotiri. Afterwards our guide will take you for a walk to a typical local village. During the tour you will have many opportunities to take stunning photos and taste world-famous local wines. Boost your creative fire at a local pottery workshop where you will paint your own plates. And complete your relaxation with two massages.
Santorini in the springtime is very colourful, flowers are blooming, the air is fresh. The days are usually pleasantly warm, evenings and mornings are cool. As far as the weather permits we will practice on our outdoors yoga rooftop overlooking the sea so take warmer sport clothes with you. The views are spectacular! Spring can surprise us with some rain or wind so on those days our classes will take place inside in a traditional cave.
ABOUT CAVELAND:
The history of Caveland is 300 years old. This complex was originally used as a winery. The grapes were collected from local vineyards that are surrounding it. Afterwards they were mashed in a well that is located at today's reception. Finally the wine was stored in the caves that are now converted into cave rooms.
This place was later known as a tennis club and it was in the late seventies one of the first hotels in Santorini. It was refurbished and re-opened in 2011 as a boutique hostel. It offers a mixture of private and dorm-style accommodation. The property is a 15 000 sqm large with a big pool, numerous gardens and hidden corners. It is in a picturesque village of Karterados just next to Santorini's capital Fira town. Karterados village lies on the main bus route connecting Fira with the south of the island. Therefor the location is ideal for those who want to explore the island and still be away from the crowds. Here is Caveland website.
SCHEDULE:
Wednesday March 25th:
arrival day
5- 6.30 pm evening yoga
7pm welcome dinner at a local restaurant
Thursday March 26th:
8.30-10 am morning yoga followed by brunch
11am -3pm private tour to Akrotiri, wine tasting at a local winery with stunning views and light lunch, visit to one local village
5-6.30 pm evening yoga
Friday March 27th:
8.30-10am morning yoga followed by brunch
Free day to relax and enjoy your first complimentary massage in your room
Free evening that you can use to watch a sunset from some of the famous locations
Saturday March 28th:
8.30-10am morning yoga followed by brunch
11am-2pm art class at a local pottery shop Galatea where you will have the opportunity paint the plates
5-6.30pm evening yoga
Sunday March 29th:
8.30-10am morning yoga followed by brunch
Free day to relax and enjoy your second complimentary massage in your room
5-6.30pm evening yoga and farewell
Monday March 30th:
departure day
8.30-10.30 continental breakfast
ABOUT YOGA:
This yoga retreat is suitable for eager yoga students of all levels. The number of participants is limited to 7.
Morning classes have an active character and you will practice hatha flow with Veronika. Evening classes are slower paced and you will practice dru yoga, meditation and pranayama with Mickey. The first evening class will be led by both teachers.
PRICE & ACCOMMODATION
Below are the prices based on your selected accommodation. The price includes
five nights of accommodation,
8 yoga classes,
4 vegetarian brunches and 1 continental breakfast,
two massages,
participation at a private tour including wine tasting and a light lunch
art class at a pottery workshop and postage of your plates to your home address
a welcome dinner.
Extras: airport /port transfer, entrance to excavations in Akrotiri during the private tour (12 Euros), the rest of the meals.
– Private cave with a private bathroom: 790 Euros (3 caves available)
This cave has a double bed inside and therefor it is suitable for a single traveller or for a couple. It has its own private bathroom and also a small kitchen. We have three such caves, each of them with its own unique design.
If you are 2 people willing to share this cave, please email me for the prices. The second person does not have to participate at the yoga.
– One bed in a private two bed twin cave with a private bathroom: 670 Euros/ 1 person  
This cave has 2 single beds inside and it is suitable for 2 friends. Alternatively, we can try to match you with another participant.  It has its own private bathroom and also a small kitchen corner.
– A medium sized single room with a shared bathroom: 750 Euros (1 room available)
Single room that is sharing a bathroom with a 6 – bed mixed dorm, suitable for a single traveller.
FOOD:
During our yoga retreat in Santorini we serve a morning vegetarian brunch with a variety of fruit and home-made pastry. Moreover after the first evening class we will have a Greek sampling dinner at a local tavern. We will taste a variety of typical local dishes, certainly all vegan/vegetarian (depending on the group and their dietary requests). During the private tour on your second day you will also participate at a private wine tasting when the wine is paired with local vegetarian snacks, dips and starters, all perfect as a light late lunch!
There is also a fully equipped kitchen with a stove and an oven in the communal kitchen in Caveland. Likewise most of the private caves have also a kitchen corner. Above all local grocery stores are within a walking distance from Caveland and they offer a wide range of local seasonal fruits and vegetables, too.
ABOUT THE TEACHERS: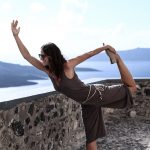 I am Veronika and I have been living in Santorini for almost 10 years now. I am a yoga teacher and besides that I also manage beautiful Caveland where I help other teachers to hold their yoga retreats, too. So far I taught 20 retreats in Caveland. During my yoga classes we usually practice a slower paced hatha flow with accent to mindful alignment, breath and body awareness. Here is more information about my yoga journey:
I attended my first yoga class over 10 years ago during my vacation in Boracay Island in Philippines.
I started my regular practice at Yoga 109 (studio of Lorraine Aronson) in Shanghai (China) where I lived.
Early in 2012, I attended a yoga teacher training at The Mindful Academy of Kathy Ward in Spain and became a certified yoga teacher (RYT 200) and therapeutic yoga teacher.
My kids who are now 4 and 6 inspired me to pursue a diploma in perinatal (pre and post natal yoga), baby yoga and toddler yoga with Birthright.
In 2016 I attended a yin yoga training with Josh Summers.
My interests and additional courses I attended are: Iyengar inspired hatha teacher course with Oona Giesen in Paros (2015), specialised therapeutic course for scoliosis and SI joint disfunction online through Yogamaze.
Recently I have been interested in arm balances and inversions and I am following a fantastic online course with Jason Crandell.
My name is Mickey, and I have been living in Santorini for 27 years. As well as teaching yoga I am also a massage therapist. My journey into yoga began back in 1996, when I experienced my first (and only) ever asthma attack. I had read that yoga was beneficial for this so began my own private exploration of the practice.
Once I was hooked, I joined the British School of Yoga and became a Hatha teacher in 2000.
A chance meeting introduced me to Dru and I trained over the course of 4 years in Snowdon, Wales to become a Dru Therapist and Teacher, qualifying in 2002.
During the winter I teach classes and courses on the island for locals. And in the summer I hold regular classes on the beach, whilst also providing private sessions for visitors.
Recently I developed my web presence with Santorini Wellness (santoriniwellness.com)
Last winter I also added Dru Dance to my bow. This is a fusion of yoga and dance moves choreographed to music.
This winter my mission is to develop my knowledge of inversions, following an online course from Jason Crandell.
I met Veronica back in 2014, and we started hosting Full Moon classes together raising funds for the local animal shelter. In recent years I have held an introduction to Dru during her retreats. This will be our first full collaboration.