Leggings with a story
Sustainable yoga wear by SANTORINI YOGA & Abraka
I've always believed in supporting individuals and their creativity. For years I have been shopping locally and supporting small businesses either here in Greece or in my home country which is Slovakia.  If you buy from a small entrepreneur, you usually acquire a unique long- lasting piece with a story. Moreover, you give that individual yet another reason to continue on their path.
This attitude lead me couple of years ago to a discovery of a small producer of yoga wear called Abraka store that is based in Slovakia. I fell in love with their unique pieces, with the sustainable material that is made from PET bottles and with the high quality of the pants that feel like the second skin!
Many good comments about my yoga pants lead me shortly before the quarantine to an idea to launch my own yoga line. A friend of mine introduced me to an amazing Athens- based illustrator Lila Ruby King. She created the unique Santorini inspired design for me.
Launching this product is super exciting! I get to support so many creative people. Moreover I also contribute in my way to keeping our Santorini island plastic free. Our island has no natural water resources and PET bottles are a big problem for us. 12 plastic bottles are used to produce every pair of these leggings.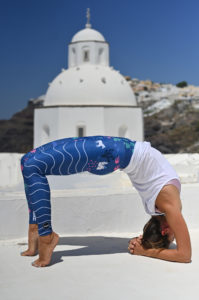 Abraka is a small business supporting local European production and sustainable fashion. Its products are sewn by a small team of seamstresses in Slovakia and the material is produced in Italy.
Abraka ® high-waist leggings are sewn from a breathable, extra-fine recycled material with a high knitting density so they offer high resistance to translucency. Elastic seams and high flexibility of the material allow greater freedom of movement.
By producing one pair of leggings they utilize 12 PET bottles, utilize 50 percent less energy, 75 percent less water and save 5kg of CO2 in comparison to the conventional production.
The material has the following certification: GRS, Bluesign ®, OEKO-TEX ® | Standard 100, SEAGUL, Q- NOVA ®. The leggings offer UVB protection SPF 50+.
Size chart:
| Size: | Waist | Hips | Body Height |
| --- | --- | --- | --- |
| Small (S) | 60 – 72 cm | 80 – 95 cm | < 175 cm |
| Medium (M) | 70 – 85 cm | 90 – 105 cm | 170 – 185 cm |
| Large (L) | 80 – 99 cm | 100 – 115 cm | 180 – 190 cm |
Note, the shipping cost is 10 Euros and at check out it will be calculated on top of the price.
Santorini Waves Leggings – NEW–  limited edition 2022!
I always get asked how the off-season and the winter feels in Santorini. Beautiful sunsets, darker colours, huge ocean waves, flocks of birds, clouds. This limited edition of the thermal wear has been inspired by colder months in Santorini. It is so comfortable that you will spend your winter in it!
The leggings are the result of my further co-operation with Lila Ruby King and Abraka Store. The fabric is made from recycled plastic bottles using sustainable techniques.