Pumpkin muffins ingredients:
2 eggs
2 cups pumpkin puree*
1/4 cup olive oil
1 teaspoon vanilla extract
1-1.5 cup sugar (depending on how sweet you want your muffins to be)
1.5 cup flour
1/2 sachet of baking powder
pinch of salt
Spices: 1 teaspoon cinnamon, 1/4 teaspoon nutmeg, 1/4 teaspoon cloves
Raisins, almond flakes (about 0.5 cup)
* Blend together 1/2 cup of water and about 2 cups of pumpkin
Directions
Using a whisk beat together the eggs and sugar. Add the rest of the wet ingredients.
Pix together flour, baking powder and the spices and then add it into the wet mixture.
Incorporate raisins and almond flakes.
Scoop into muffin liners and bake for 18 min minutes on 180 C.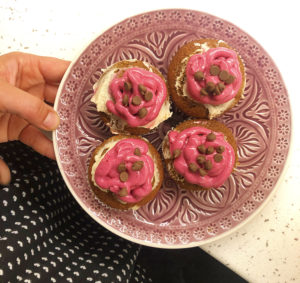 Icing: 1/4 cup butter, 1 cup cream cheese such as Philadelphia, about 1/2 cup of icing sugar and a spoon of cinnamon.
Pumpkin benefits
Pumpkin is packed with vitamins and therefor boosts your immunity. It's beneficial for your skin, vision and promotes weight loss!